On January 24th, Italy signed an agreement with the United Nations Industrial Development Organization (UNIDO) for a vast agricultural program to be implemented in Mozambique. The program will aim at promoting sustainable value chain development in agro-industries and it will focus on the promotion of a particular variety of coffee that naturally grows in the Mozambican northern province of Cabo Delgado: this is why the program will be developed in partnership with one of the leading companies at a global scale in the field of coffee, IllyCaffé and the Ernesto Illy Foundation, representing the Italian excellence internationally.
At the heart of the intervention there is the Mozambican special coffee Racemosa Loureiro, characterized by the fact of being naturally low in caffeine, a characteristic that makes it extremely rare – and qualifies it as a naturally decaffeinated coffee. The Racemosa coffee plant grows in the pristine atoll of Ibo, in the Quirimbas National Park, an amazing archipelago stretching for one hundred kilometers along the Mozambique northern coastline. The Italian presence is strategic in this area: besides the Italian ENI, in fact, the Italian Agency for Development Cooperation (AICS) will implement an initiative in partnership with UNESCO to define a management plan of the Quirimbas National Park.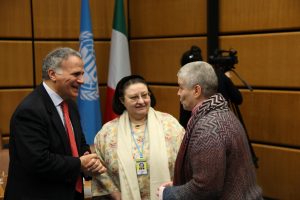 The agreement was signed at UNIDO headquarters in Vienna between Giorgio Marrapodi, the Director General for Development Cooperation of the Italian Ministry for Foreign Affairs, and UNIDO Director General Li Yong, with the participation of Anna Illy from IllyCaffè. The Italian Agency for Development Cooperation will fund the initiative with a total contribution of 4 MEUR. Mozambique's Ministry of Agriculture and Food Security and local stakeholders will be actively involved in the program, and activities will include the improvement of technical skills of students from the Agrarian Institute of Bilibiza, the support to the diversification of local agricultural projects, the commercialization of Racemosa coffee within the country. Through the joint efforts of an international partner such as UNIDO, the expertise of Illycaffé and our experience and knowledge of the country and the challenging context, the objective is to accompany local agricultural development, a key sector for a predominantly rural country.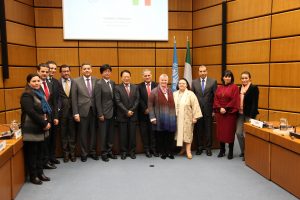 This agreement highlights the will of the Italian Cooperation to adopt the innovative approach of development cooperation policies, where the role of public-private partnerships is highly revalued. The United Nations 2030 Agenda for Sustainable Development strongly emphasize the role of the private sector to achieve sustainable development: particular emphasis is put on the active involvement of private actors. In line with the UN agenda, the recent law (2014) reforming the Italian Cooperation system and creating the Italian Agency for Development Cooperation also recommends enhanced collaborations and partnerships among governments and market actors to implement specific cooperation initiatives.
This is not the first time that the Italian Cooperation develops successful public-private partnerships: a similar project was carried out in Ethiopia, involving UNIDO, the local Ministry of Agriculture and Food Safety, and Illycaffé and the Ernesto Illy Foundation.
Photo credits: UNIDO