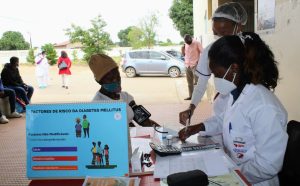 Today is World Diabetes Day.
Currently, in Africa, there are 24 million cases of diabetes in adults, with estimates indicating that this number will reach 55 million by 2045. In the African continent, these statistics can be explained by various factors, including the lack of diagnosis, a shortage of qualified healthcare professionals to identify and treat the disease, lifestyle changes, and low awareness among the population regarding the disease and risk factors.
Mozambique is not exempt from this reality, and the Ministry of Health, aware of this challenge, has implemented the Multisectoral Strategic Plan for the Prevention and Control of Non-Communicable Diseases (NCDs), with the goal of reducing major risk factors such as obesity, an unbalanced diet, and sedentary behavior.
The Italian Agency for Development Cooperation (AICS), recognizing the significance of NCDs, has prioritized the fight against this global epidemic in the country's health initiatives, with Italy standing out as the main donor in Mozambique. Thus, the project "Prevention and Control of Non-Communicable Diseases" was launched with an investment of 7 million euros, concluded at the end of 2022, and implemented by the consortium of NGOs AIFO, CUAMM, and ACAP. Additionally, a new project of 5 million euros has been funded, ensuring its continuity for the next three years.
Dr. Fernanda Fernando Parruque, working on the project with the Saint Egidio community, and Dr. Isabel Guilamba from the Provincial Health Directorate (DPS) explain that, in the recent past, Non-Communicable Diseases (NCDs) were mistakenly considered exclusive to developed countries. For Mozambique, still facing significant challenges related to infectious diseases such as HIV, malaria, and tuberculosis, NCDs become an additional and complex burden.
This project played a crucial role, empowering over 413 healthcare professionals in diabetes diagnosis and expanding screening services, providing diagnoses to over 35,237 people. It also ensured that 14 health centers in the provinces of Maputo, Sofala, and Zambezia, including the São Damaso Health Center, provide access to necessary healthcare services.
At the São Damaso Health Center, we met Mrs. Faustina Ernesto, a resilient woman facing diabetes for over two decades. She emphasized that the first step in facing the disease was "adapting dietary habits, reducing sugar." The doctor overseeing her care emphasized the importance of physical exercise, leading Faustina to adopt the practice of "walking, walking, and walking." It is noteworthy that the project funded by AICS played a crucial role, empowering community healthcare workers to disseminate information about the need for physical activity and a healthy diet in preventing Type 2 Diabetes.
On the other hand, Mr. Pedro Lourenço recently discovered he has diabetes, precisely on October 26, 2022, confessing that "it was scary at first, but I immediately sought treatment." Access to medications represents one of the main challenges in diabetes treatment, which is why the project provided essential medications and equipment (glucose meter, blood pressure device to be specified) to the 14 health centers involved. It should be noted that, if diabetes is not treated properly, it can lead to complications and, in severe cases, even amputations.
Dr. Isabel Macamo, a doctor and focal point for Non-Communicable Diseases (NCDs) at the São Damaso Health Center, emphasizes the importance of celebrating World Diabetes Day. She highlights that, unlike HIV, widely discussed even in local transport known as "chapas" in Mozambique, diabetes is considered a "silent" disease. Often, it does not present obvious symptoms, and the consequences manifest in the long term, resulting in undiagnosed cases.
On World Diabetes Day, AICS remains committed to mitigating the impact of this "silent" disease, and following the results achieved in the first project, it has decided to implement a new project on NCDs, consolidating previous progress. The new project will also focus on diabetes complications that can cause disabilities, providing continuous care and assistance in an attempt to improve the quality of life for people with chronic diseases.